| | |
| --- | --- |
| | Original designs for living better, cheaper, & more ecologically since 1980 |
Catalog | Education | Ecological Systems Design | Water Central | Grey Water Central | Free Newsletter | Oasis Design Press Room | Shopping Cart
| | | | |
| --- | --- | --- | --- |
| Laundry to Landscape (DVD) An instructional video on how to design and build the simplest, least expensive, lowest effort way to irrigate with residential greywater. | Maruata at the Crossroads (download) Eighty pages in Spanish with 125 photos, graphics and tables on the ecological systems design for an indigenous village in Mexico. | Grey water policy centerA compilation of grey water laws, suggested improvements to gray water regulations, legality & greywater policy considerations, sample permits, public health considerations, studies, etc. | Photo gallery |
"Thank you for this website, it is amazing I am a graduate student working on a thesis about water re-using and recycling and all the information on your site fits perfectly." —Cassandra, Santa Rosa, California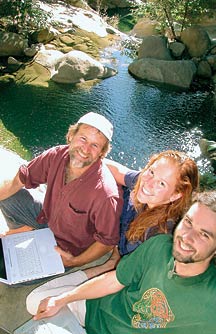 Oasis Design is a wellspring of decades worth of original designs and content which you won't find elsewhere.
We specialize in the nuts and bolts of sustainability—practical systems for living well, in harmony with nature and each other. These include designs for managing water, wastewater, energy, money and other resources.
Our goal is to live really well, on a small amount of well-managed resources, and help others do the same.
There are several hundred pages of free information here on our web site, as well as an additional several hundred in our books and articles. Besides the hundreds of interlinked pages below, there are dozens of "easter eggs" which serve as hidden portals to our site, each baited with uniquely useful content on this or that obscure topic.
...and all this is the published 5% or 10% tip of a much larger unpublished iceberg.
We hope you enjoy your visit, and find something which helps you thrive.
Yours, The Oasis Team
New/ revised pages—
Browse whole site at a glance—
www.oasisdesign.net • Copyright Art Ludwig ©1997 – 2013
^top^