| | |
| --- | --- |
| | Original designs for living better, cheaper, & more ecologically |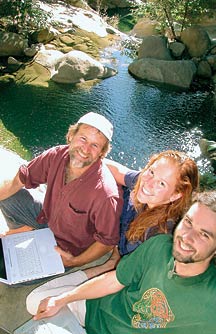 Deep green, integrated solutions for water supply, greywater reuse, edible landscaping, passive solar, fire-safe architecture, etc.
33 years of original innovations that have been spread worldwide, adopted into building codes, and reposted all over the web; this is the source.
Over 500 pages of original online content plus books which are top in their categories:
Our goal is to help people live really well, by getting the nuts and bolts of simple, DIY sustainable systems to really work.
--The Oasis Team
"Just wanted to thank you for getting those books out...as I opened the package I had the opportunity to pass your info along to an interested client. Person to person that's how this revolution is spread." —Jaime, New Mexico
www.oasisdesign.net • Copyright Art Ludwig ©1997 – 2014
^top^