Earth and Orchard Toilet Plans
(old, very partial, low bandwidth version)
Complete version of this page
Mexico work, past work [200 images] (thanks to Lionila, Dora, and Amanda Sarkis for help on these)
Current Models [140 images] (thanks to Betty Siemans, Ed Hachfeld, Michelle Logan, Barbara Wishengrad and Maya Shoemaker for help on these).
The Movie [partial draft]
There's more info on toilets (in Spanish) in Maruata at the Crossroads (download) .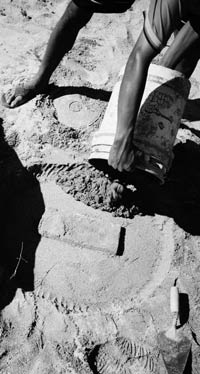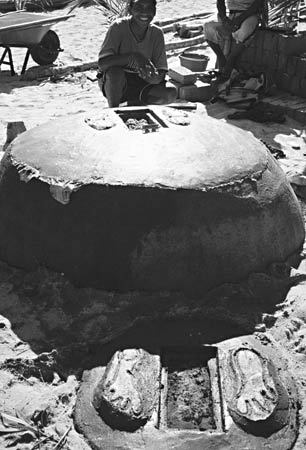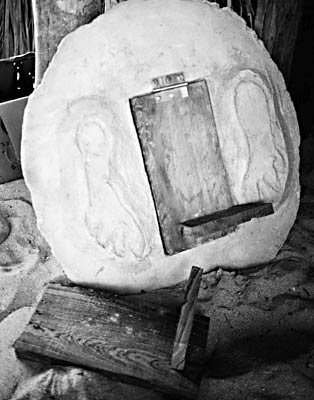 The orchard toilet (small lid) is the easiest, best toilet to make and use. Takes 2/3 bucket of concrete (2" thick, 20-24" across),
Mold is mounded wet sand, with a board 3/8" smaller than the lid, and the lid itself.
A 4" stainless steel hinge is the high tech part. Hinge can also be leather.
Wood should be rot resistant.
Dig unlined holeabout the size of a 5 gal bucket, or two buckets on top of eachother.
Big lid in middle is same idea, but made of ferrocement (like a water tank!) it is 1" thick.This one gets a hole24-36" deep. 6" less radius than lid. You DON"T need the bread oven thing...that's cause in this site water is only 60 cm down (!)---you need a meter of separation to groundwater.
Good luck!

^ Top of page ^ Browse | Catalog
• www.oasisdesign.net • Copyright © Art Ludwig 1997–2018 • Content Use Policy •