Getting Clear on Greywater:
Advantages of Nature-Inspired Water Systems
Lecture by Art Ludwig at the Water Conservation Showcase
4-5 pm Tuesday, May 25th, Pacific Energy Center, San Francisco California
Description
Why pollute waterways with wastewater and nutrients, when they can irrigate and feed plants?
Reuse of greywater for irrigation is part of a fundamental solution to many ecological problems.
This presentation will explain the benefits of greywater reuse, and how plants and soil achieve such spectacularly high treatment levels.
Code issues and other limiting factors will be addressed, with special mention of the greywater regulation revolution in Arizona and New Mexico.
Strategies for realizing the immediate and future benefits of greywater in existing buildings and new construction will be explored.
Questions will follow the class.
• To submit a question in advance, Email us •
Registration
See the PG&E water conservation showcase web page.
Background and further reading
Optional further reading:
About the instructor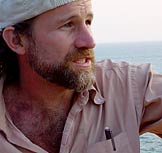 Ecological Systems Designer and Greywater Guru Art Ludwig has probably paid more attention to Greywater systems the past fourteen years than just about anyone.
He's written three books and numerous articles on Greywater systems, developed several new system designs, and consulted with New York and New Mexico on their Greywater laws. He's also worked on water and wastewater systems in twenty two countries around the world.
^ Top of page ^ Browse | Catalog
• www.oasisdesign.net • Copyright © Art Ludwig 1997–2018 • Content Use Policy •