You are here: Home > Ecological Systems Design> Builders of the Pacific Coast (book)
Builders of the Pacific Coast
Lloyd Kahn
| | |
| --- | --- |
| Summary: A continuation of Lloyd Kahn's journeys into the creative processes of owner-built homes — their innovative techniques, use of sustainable materials, and essential dedication to the natural elements surrounding their designs — Builders of the Pacific Coast explores the aesthetics and skills of three master builders in California, Washington state, and the rugged terrain of British Columbia. The three featured craftsmen — Lloyd House, Bruce Atkey, and Sun Ray Kelley — combine imaginative architecture with innovative contexts: everything from unusual house-boats to sculptural dwellings made of driftwood are included. With stunning color and black-and-white photographs, as well as detailed black-and-white drawings of the homes, this collection of unique and progressive designs creates a template for a future filled with forward-thinking architecture. | On this page: |

Lloyd Kahn, Shelter Publications. 2008. 9" x 12", 293 pages, trade paperback. ISBN 978-0-936070-43-8. $26.95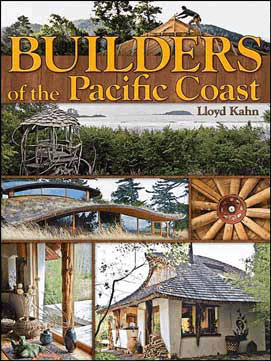 Introduction
In 2004, Lloyd Kahn discovered a group of unique carpenters along the Pacific Coast of North America. Over a two-year period, he made four trips north from his home in the San Francisco Bay Area, up the coast, shooting the photos that appear in this book.
To preserve homeowners' privacy, specific locations are not given, but suffice to say this book focuses on the Pacific Coast north from San Francisco up to and around Vancouver Island, British Columbia, latitudes 37 to 49 degrees.
There's been a vortex of creative carpentry energy in this part of the world over the last 30 years. Many of the builders shown here got started in the countercultural era of the '60s and '70s, and their work has never been shown in books or magazine articles.
As in the author's previous books Shelter and Home Work, there are three featured builders: Lloyd House, master craftsman and designer who has created a series of unique homes on a small island; Bruno Atkey, builder of a number of houses and lodges built of hand-split cedar on "The Wild Coast" (the Pacific Ocean side of Vancouver Island), and SunRay Kelley, barefoot builder tuned into Nature, who has designed and built wildly imaginative structures in Washington, California, and other parts of the country.
In addition, there are working homesteads, sculptural buildings of driftwood, homes that are beautiful as well as practical, live-aboard boats, gypsy-type caravans, and examples of stunning architectural design.
The two predominant features of the landscape here are water and wood. Most of these buildings are on or close to the sea. Islands are reached by ferries; it's a marine environment. And, there's an abundance of wood. Trees grow fast and tall in rainy Northwest forests; many of these buildings were constructed entirely from logs off the beach or trees from adjacent land.
You're invited to come along on these trips up and down the coast: going down these roads, riding the ferries, camping on the beaches, meeting these builders, and seeing their unique creations.

Lloyd Kahn, Shelter Publications. 2008. 9" x 12", 293 pages, trade paperback. ISBN 978-0-936070-43-8. $26.95
Reviews
"To document this riot of creativity, Kahn took 10,000 photos and selected 1200 for the book. On every page is something shocking and delightful. A boat with legs. A roof like a leaf. A caravan with eyes. A split-cedar woodshed shaped like a bird. Stair rails so sinuous and snakey they might come to life and grab you. Sculpted earth walls. Round windows and arched doors. Roofs curved like seagull wings. Grottos choked with ferns and flowers. All that's lacking is a hobbit with a long clay pipe."
—Mike Litchfield, West Marin Citizen

"You don't just read this visual extravaganza of Lloyd Kahn's magnificent discoveries of the homebuilder's art and imagination in the hidden byways and buried inlets of the Pacific Northwest. You deep-breathe your way through its full-color page-spreads with mounting delight, excitement, nostalgia, and a deepening admiration for the diversity of the unfettered expression of the human spirit that the much-distorted 1960's inspired and allowed, and with a re-fired commitment not to let that spirit wither.…these sun-glowing, grinning craftspeople…have clearly looked, selected, waited, and then placed all this twisted, left-over sea-beaten driftwood with such exquisitely precise casualness that allows these miraculous enclosures to achieve a higher state of architectural life because they never lose the original nature of their ingredients - timber, stone, grass."
— Peter Nabokov Professor of World Arts, Cultures & American Indian Studies, UCLA
"...a lovely masterpiece"
—Kevin Kelly, founding Executive Editor, Wired magazine
"Lloyd Kahn has likely done more to bring the work of natural builders into public consciousness than just about anyone in recent times. Countless times in recent years I have been told by owner-builders, designers, architects, and pioneers of the natural building movement that one of Lloyd's books inspired their projects."
—Jack Stephens, Natural Building Network
"What a fabulously inspiring piece of art! Truly amazing !"
—Sim Van der Ryn, former California State Architect
"Wild, woodsy, whimsical. And profoundly West Coast. These are homes that bring to mind tree houses for grown-ups — with recognizable boughs, trunks and timbers incorporated in utterly original ways and perched as close to nature as possible."
—Katherine Dedyna, Vancouver Sun
"Seeing the beauty and harmony that graces every page of Builders of the Pacific Coast brought something immensely calming into our home and hearth, a kind of heart-opening grace and a groundedness. I am deeply grateful for that. We shall cherish this book to the end of our days."
—John Grissim, author, Pure Stoke
"Thanks to Lloyd Kahn's book, the pioneering spirit embodied in these homes nestling on the fringe of civilization is going to rebound against the Pacific and return homeward to inspire new generations of selfbuilders."
—Simon Fairlie, The Land
"A wonderful collection of imagination and possibility.…"
—Steven Leckart, CoolTools
"Kahn's three books overlap, play off one another, and diverge in a way that mirrors the varied yet coherent nature of the structures they document. Each also represents the spirit of the times…"
—Jacoba Charles, Point Reyes Light
"This collection of unique and progressive designs creates a template for a future filled with forward-thinking, organic architecture.…"
—Kolin Lymworth, "Kolin's Book of the Week" Banyen Books, Vancouver, BC
"…this is a beautiful and grand step in your further exploration that began with Shelter. It is fun, inspiring, enriching, and a joy. I would call it your masterpiece but I know the road is still out there, the camera still works, the truck still runs…and your curiosity will push you out there again."
— George Young, George Young Books (and Lloyd's friend)
"… a beautiful visual hymn to the creative builder."
— Jack Fulton, photographer (and Lloyd's friend)

Lloyd Kahn, Shelter Publications. 2008. 9" x 12", 293 pages, trade paperback. ISBN 978-0-936070-43-8. $26.95
Contents
Check out a slide show of images from the book on the publisher's web site.
Keywords:
^ Top of page ^ Browse | Catalog
• www.oasisdesign.net • Copyright © Art Ludwig 1997–2015 • Content Use Policy •