Understanding Water Quality:

Wild Water Wisdom Workshop

Summary: Description, preparation, what to bring, etc. for Understanding Water workshop on San Jose Creek June 11th 2003, 9am-5pm and June 13th 8 am-1pm.

Workshop has already happened, but there's a lot of great reading on this page...
Come together and lets see what a short, beautiful stretch of San Jose Creek has to tell us about how natural waters change as they cycle through nature, and how we're meant to fit into this.
The way to understand water is to kneel at the feet of the master.
The master can be found at work everywhere outside your door, especially at the nearest, nicest, natural waters.
Immerse yourself in these consciously, fully, and regularly and an understanding of what water has to tell you will soak in.
What
As much of the following as we can fit in.
Understanding water
The water cycle, with particular focus on how water quality changes as it touches the earth from the sky and then moves over and through it.
What purifies water and how
What contaminates water and how
Tolerances for different kinds of contamination in the water
Some discussion of how water quality changes as it moves through engineered systems
Sharpening your water intuition
how to find and recognize which water is best for drinking, washing dishes, swimming, washing clothes.
How to bathe, wash dishes, wash clothes, urinate and defecate in the wilderness in a way which enhances plant growth rather than degrading water quality
Water testing
The limitations of testing
What testing is good for and how to get the most out of it
Testing techniques for general and fecal coliform bacteria
What "40 coliforms per 100ml" means and how to convert this into quantities of actual fecal matter in the water
Estimating contamination which could result from a given source
Estimating what source could have produced a measured level of contamination
We'll each collect a few samples, learning good technique for test design, predicting results, sample collection, pipetting, plating, incubating, counting, recording and interpreting results.
For this class we'll use "coliscan" easy gel plates, with 5ml samples and Hach presence/absence tests with MUG for 100ml samples. Other techniques will be discussed.
Measuring turbidity visually and with a Hach handheld turbidimeter.
The importance and implications of turbidity will be discussed.
Time permitting, and if I finally break down and buy one, we'll measure hardness with a handheld electrical conductivity probe.
Taste & feel
We'll drink and swim in different waters, and discuss what can be learned by ingestion and immersion.
How to drink without contaminating the source.
Discussion of human parasites and how to test for them in water and in humans
Water profile
If we can manage it we'll take advantage of our presence on the creek doing samples to produce as complete as possible a profile of the 15-40 waters we sample, including for each water:
Your objective and subjective narrative description of the water
Why you are testing at that exact place and time and what you expect to learn from the test
A high resolution digital image of the sample location and surrounds
Your guess as to the amount of general and fecal coliforms
The water temperature
The turbidity
The hardness level
Sample info: code, date, time, quantity plated, etc.
A high resolution digital image of the ripe plate
The results of the general and fecal coliform counts
Discussion of the implication of these results
(there is a early, primitive version of such a profile at Water test results- Maruata)

Water education
Brainstorm how to share this information with different types of people
How it could add to WYP
What specifically to do, if anything, at Live Oak.
Who
By invitation to Wilderness Youth Project staff and key volunteers. If you would like to invite someone outside this group, please check. Please RSVP to Mark so we can ensure an adequate amount of water testing supplies. There is space for 10-18 people total.
How much
$100 individual, $200 institutional, or trade for WYP programs.
When & Where
Now—Stuff to read beforehand
We'll approach the topic from a wide range of perspectives: hydrologist, microbiologist, plant physiologist, chemist, backpacker, and wild nature spirit. If you can track across this whole spectrum you'll get the most out of it.
The more of the background info below you understand (or even have been exposed to) before coming the more you'll get out of it. You could spend as little as an hour just opening every document and glancing at it or as much as a week reading everything through and thoroughly understanding it.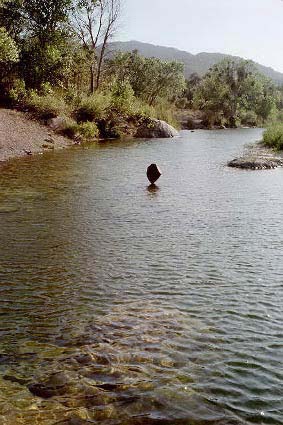 This stuff is worth reading all the way through:
This stuff will add more depth if you can scan or read any of it:
Wednesday June 11th 9:00 am-5:00 pm —Workshop
All meet at Art's house, spend day at creek and Art's food jungle.
A volunteer photographer needed to take shots of each sample location, with a high resolution digital camera, USB cable and software CD (to download to my computer).
Photographer tracker needed to record which photo goes with which sample
Volunteer(s) needed to key in handwritten sample collection info afterwards (call Mark)
To bring
Paper, pencil and a clipboard.
Bring delicious food for potluck picnic at the creek.
Sun protection, cold breeze protection, plenty of water, bathing suit in case there's someone who minds.
Optional: Mask, snorkel, mercury free thermometers.
Prepare yourself to sit on a rock and listen for a few hours at a stretch, as well as scramble over boulders and through water.
Friday June 13th 8:00 am -1 PM —Workshop
Meet at Art's and count the general and fecal coliform test plates from Wednesday, take digital photos, enter and collate data from sample collection, enter in spreadsheet, analyze and discuss, brainstorm ways to share this info.
Questions? Comments? Volunteer? Call Mark or Art
Understanding water class photos
• www.oasisdesign.net • Copyright Art Ludwig ©1997 – 2018 • Content Use Policy •