Election November 2018 Voter Guide, Endorsements, and Activism
(Guía Progresiva de Votaciones Noviembre 2018)
The most important midterm election in our lifetime.
It will be decided by turnout.
Young people, brown people, and democrats don't bother to vote as much as old, white, republicans. Besides voting yourself, broadcast the call for everyone you know to vote, donate to combat voter suppression, and do phone or text banking for critical races around the country.

Every race matters. Republicans are using obscure offices like "secretary of state" to suppress voting, and to tilt the playing field to the rich.

Republicans are coming for your health care to pay for tax cuts for the rich...

Encouraging exploitation of workers and destruction of the earth's life support systems by billionaire donors.

On this page:
Endorsements
Focused on Santa Barbara, CA. You can figure out much about other local races by checking the sources.
Explanation is given only where the choice was not obvious, or the effect of particular interest.
=State=
Governor Gavin Newsom
Leutinant Governor Ed Hernandez
Secretary of State Alex Padilla
State Controller Betty T. Yee
State Treasurer Fiona Ma
Attorney General Xavier Becerra
Insurance Commissioner Ricardo Lara
Board of Equalization Dist. 2 – Malia Cohen


=United States Senator=
Kevin de León Diane Feinstein was great, but it's time for someone younger and more agressive.


=United States Representative=
24th District: Salud Carbajal
25th District: Katie Hill
26th District: Julia Brownley


=Member of State Assembly=
37th District:Monique Limón
38th District: Christy Smith
44th District: Jacqui Irwin
35th District: William Ostrander

=Judicial=
JCarol A. Corrigan: NO
Leondra R. Kruger: YES
Victoria G. Chaney:NO
Helen Bendix: YES
Elwood G. Lui:YES
Victoria M. Chavez: NO
Luis A. Lavin: YES
Halim Dhanidina: YES
Anne H. Egerton: YES
Nora M. Manella:YES
Thomas Willhite: NO
Doris C. Kim: YES
Carl H. Moor: YES
Lamar W. Baker: YES
Arthur Gilbert: YES
Martin Tangeman: YES
Gail R. Feuer:YES
John Segal: YES
Tricia A. Bigelow: NO
=School=
Superintendent of Public Instruction Tony K. Thurmond
Santa Barbara Community College District Trustee Area 5 Marsha Croninger
Santa Barbara Unified School District Governing Board Member: Ismael Ulloa, Rose Muñoz


=State Measures=
Prop. 1 – Yes
Prop. 2 –Yes
Prop. 3 – No
Prop. 4 –Yes
Prop. 5 – No
Prop. 6 –No
Prop. 7 –Yes
Prop. 8 –Yes
Prop. 9 – Removed by Court Order
Prop. 10 –Yes
Prop. 11 –Yes?
Prop. 12 –Yes


=County Measures-Santa Barbara=
Measure G 'good' method: YES
Measure H 'horrible' method: NO


=City Measures-Santa Barbara =
Measure B Santa Barbara Election Consolidation—Yes.
This will improve turnout, which will lead to more progressive outcomes.
Measure C Succession—Yes.

=Carpenteria =
X Carpinteria Sales Tax Yes
Carpinteria City Council Gregg Carty, Al Clark, and Brad Stein
=Goleta=
Mayor Paula Perotte
Water board Kathleen werner, Matthias Eusterbrock
Activism
Volunteer for a phone bank shift any time between now and the election, for example. The races listed are crucial for the balance of power. If democrats regain the House of Representatives, they will have the power to investigate Trump, get his tax returns
Indivisible—Effective local actions around the country.
Donate
Donate to support Native American voting in North Dakota—The battle to win back the Senate may be decided in two majority Native American counties in North Dakota, where the State is going all out to suppress the Native vote in a way that sounds more like 1850 than 2018. If democrats gain the senate, they will stop Trump from appointing any more Supreme Court justices, the disaster that Gabe mentioned.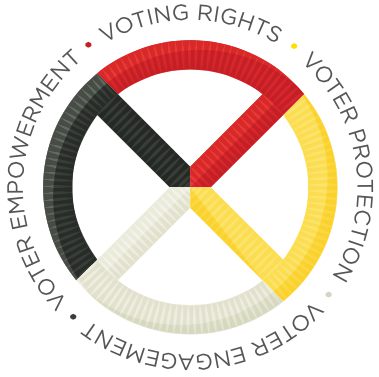 Register to Vote: CA Registration Deadline = Oct 22nd.
Make it easier on yourself going foward by voting by mail (deadline to switch to vote by mail=Oct 30th, 7 days before election).
Help your 16-17 year old kids pre-register to vote; they will automatically be registered when they turn 18.
Stay Informed
Voting With Your Middle Finger: Two Views On The White Working Class—This is the best explanation yet for how the *%@# anyone could have voted for Trump. Listening to this made me a better person.
Washington Post—Middle (note: reality has a liberal bias)
Rachel Maddow—Middle left
Democracy Now—Far left
Sources
I find the State voter guide pretty useless; it's just competitng sales pitches, which are often totally misleading. More instructive is who is supporting what, and why:

SB Independent

https://www.independent.com/news/2018/oct/04/2018-election-endorsements/
https://www.independent.com/news/2018/sep/27/school-board-races-loaded-candidates/

Noozehawk

https://www.noozhawk.com/article/democratic_party_of_santa_barbara_county_makes_endorsements

SB Sierra Club
https://www.sierraclub.org/los-padres/santa-barbara/november-2018-general-election-endorsements

SB Democrats
http://www.sbdems.org/
https://www.cadem.org/vote/body/CDP-2018-Endorsements-Official-18-08-31.pdf

Excellent Summary of everyone's diverse Ballot Proposition Recommendations
https://www.californiachoices.org/


Summary of Ballot Proposition Recommendations From Green Party of California
http://cagreens.org/elections/2018-fall


LA Times
http://www.latimes.com/opinion/endorsements/la-ed-endorsement-wrapup-20181019-story.html

Judges

My voters guide for Democrats in LA County


<![if !supportLineBreakNewLine]>
<![endif]>

OPPOSITE DAY:

Sometimes when it is confusing which way to vote, it can be helpful to see what the opposition is thinking. Here's evangelical Christian's recommendations, whcih are especially helpful for the judiciary:
http://www.electionforum.org/
https://conservativevoter.org/
http://www.christianvoterguide.com/


^ Top of page ^ Browse | Catalog
• www.oasisdesign.net • Copyright © Art Ludwig 1997–2018 • Content Use Policy •