Creating a Life Together
Practical Tools to Grow an Intentional Community
Diana Leafe Christian
Creating a Life Together provides step-by-step practical information distilled from numerous firsthand sources on how to establish an intentional community. It deals in depth with structural, interpersonal and leadership issues, decision-making methods, vision statements, and the development of a legal structure, and profiles well-established model communities.
Author: Diana Leafe Christian. New Society Publishers, January 1, 2003. 9.1 x 7.3 x 0.7, 272 pages, ISBN: 0865714711. $27.95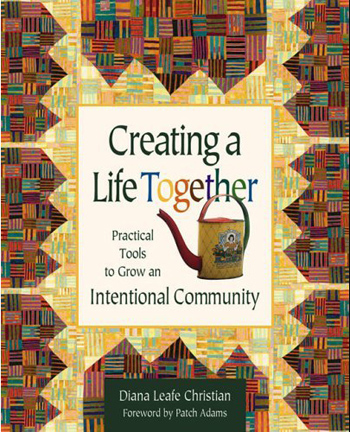 Praise for Creating a Life Together:
"Every potential ecovillager should read it. This book will be an essential guide and manual for the many Permaculture graduates who live in communities or design for them."
— Bill Mollison, co-founder of the Permaculture movement, and author, Permaculture: A Designer's Manual
"On my top three 'must-read' list for cohousers. I wish I'd had it when I started my first cohousing community!"
— Ann Zabaldo, Takoma Village Cohousing
"The book is a godsend....a serious book in a spritely style that packs a wallop!....Useful also to anyone already involved with community, Creating a Life Together will be the prime reference in its field for many years to come."
— Peter Bane, Permaculture Activist Magazine
"Before aspiring community builders hold their first meeting, confront their first realtor, or drive their first nail, they must buy this essential book: it will improve their chances for success immensely, and will certainly save them money, time, and heartbreak. In her friendly but firm (and occasionally funny) way, Diana Christian proffers an astonishing wealth of practical information and sensible, field-tested advice."
— Ernest Callenbach, author, Ecotopia and Ecotopia Emerging
"I stayed up till 2 am with this book! It would have saved our development partners repeated explanation, and we would have trusted their judgment far sooner. I recommend it for all cohousing groups—and cohousing professionals."
— Sally Wright, Pleasant Hill Cohousing
"Wow! The newest, most comprehensive bible for builders of intentional communities. Covers every aspect with vital information and dozens of examples of how successful communities faced the challenges and created their shared lives out of their visions. The cautionary tales of sadder experiences and how communities fail, will help in avoiding the pitfalls. Not since I wrote the Foreword to Ingrid Komar's Living the Dream (1083), which documented the Twin Oaks community, have I seen a more useful and inspiring book on intentional community."
— Hazel Henderson, author Creating Alternative Futures and Politics of the Solar Age.
Table of Contents

1 The Successful Ten Percent — and Why Ninety Percent Fail
2 Your Role as Founder
3 Getting Off to a Good Start
4 Community Vision: What It Is, Why You Need It.
5 Creating Vision Documents
6 Power, Decision Making, and Governance
7 Agreements & Policies: "Good Documents Make Good Friends"
8 Making It Real Establishing Your Legal Entity
9 The Great Land-Buying Adventure. Finding the Right Property.
10 Neighbors and Zoning
11 Financing Your Property (Loans You Can Live With)
12 Developing Sustainable Human Settlements
13 Internal Community Finances (Can We Afford to Live There?)
14 Legal Entities for Owning Land
15 If You're Using a Tax-Exempt Non-Profit
16 Communication, Process, and Dealing with Conflict: The Heart of Healthy Community
17 Selecting People to Join You
About the Author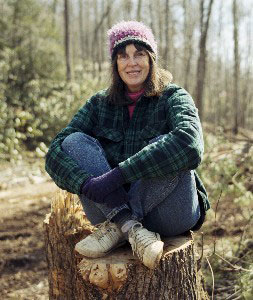 Diana Leafe Christian lives in an off-grid homestead at Earthaven Ecovillage in the Blue Ridge Mountains of North Carolina.
She hosted radio interview programs on KORL in Honolulu in the 1970s and KVMR in northern California in the 1980s, and wrote articles for New Age magazine, Yoga Journal, and East-West Journal. In 1993 she became editor of Communities magazine, a quarterly publication published by the nonprofit Fellowship for Intentional Community (FIC), about intentional communities and organized neighborhoods in North America.
Diana learned from dozens of community veterans and founders about what it takes to start successful ecovillages and intentional communities in today's financial and zoning climate. In Creating a Life Together she uses success stories, cautionary tales, and step-by-step advice to cover typical time-frames and costs; the role of founders; getting started as a group; vision documents; power, governance, and decision-making; legal structures; finding and financing land; zoning issues; sustainable site plans; selecting new members; and good process and communication skills for dealing well with conflict.
At Earthaven Diana works in construction and gardening projects on the sustainable homesite she shares with her mom and other Earthaven residents, and edits Communities magazine in her home office. She participates in Earthaven's consensus governance process, serving on its land-use, strategic planning, membership, and promotions committees.
Diana speaks, leads workshops, and shows slide presentations on ecovillages in the United States and Canada, including Ecovillage Training Center at The Farm in Tennessee, Los Angeles Eco-Village, Lost Valley Educational Center in Oregon, O.U.R. Ecovillage in British Columbia, and Easton Mountain Center in New York. She has led workshops at the North American Cohousing Conference, Twin Oaks Communities Conference, and FIC's Art of Community gathering. Her articles on ecovillages and intentional communities have appeared in publications ranging from Mother Earth News to Canada's This Magazine. She has been interviewed by New Dimensions Radio, NPR, and the BBC.
Diana's next book is Finding the Ecovillage or Sustainable Community of Your Dreams: A Field Guide (working title),about visiting, evaluating, and joining ecovillages and sustainable communities (New Society Publishers, Spring 2007).
---
^ Top of page ^ Browse | Catalog
• www.oasisdesign.net • ©1997 - 2022 Oasis Design • Content use policy