Ecological Book Design:
Reduced, 100% Post Consumer Recycled Paper...
You can judge a book by its design...
Our book design has evolved (and continues to evolve) under pressure from questions similar to those that shape our other designs…How can we improve our readers' success rate with do-it-yourself systems? How can we deliver more, better information with less trees cut and less cost?

The layout and binding we use is inexpensive to print and changes are inexpensive as well. This enables us to update the books frequently. Without a huge backlog of old-school books to sell, it is easier to pursue revolutionary new ideas with enthusiasm, and bring them to you fast (updates are posted on our web site as well, so people aren't left behind once they buy a book).
It may seem to you that there is as much information in our books as in other books that are two or three times as big. This is because that is true.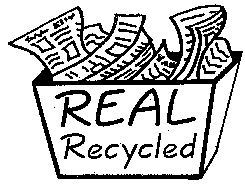 A lot of thought went into designing our books to conserve trees and the other resources used to make them.
Each greywater book uses 0.2 ozs of non-post consumer pulp. If we had produced the book using industry standard specs, it would take 6 oz of virgin pulp per book!
The layout makes use of every space possible, stopping just short of crowding the eye. This saves about 15% the paper compared to a more conventional layout.
The paper is high quality and exceptionally high opacity, so thinner sheets can be used. Thin sheets trim another 25% of the weight off of this book, saving fuel for shipping as well as more trees.
If you check a random sampling of books on "deep green" topics, you'll find that the majority are printed on "recycled" paper. However, most don't say more than that. That's because they are embarrassed to admit that their paper is pre-consumer recycled, or only 20% recycled.
| | |
| --- | --- |
| | Both these books have the same number of pages, both use 100% post consumer recycled paper. The top book uses thinner paper, saving about 25% of the weight. This is an example of "Dematerialization"—using less material achieve the same result. |

In our books the inside paper is 100% post-consumer recycled.The cover paper is 100% recycled, 20% post-consumer.
Each batch of highest quality eco paper has been arduous to come by. To get the first batch of really good paper, we had to loan the supplier money to buy a whole pallet of paper, even though we only needed a few cartons. Our old printer Poor Richard's Press, has performed truly heroic feats to find good paper (these folks are excellent for short runs and general printing). Our new printer, United Graphics, is excellent for longer runs. We recruited three other eco publishers to print with them, in order to be able to buy whole, 40,000 lb truckloads of 100% PC recycled paper.

Over the years, we've spent hundreds of extra hours and tens of thousands of dollars to conserve paper. However, our paper-conserving layout helps cover the higher cost of the more eco paper, and we've paid less shipping this whole time, so our effort has been an economic success as well as an environmental one. Regardless, the medium-message coherency is worth it to us.

---
^ Top of page ^ Browse | Catalog
• www.oasisdesign.net • ©1997 - 2022 Oasis Design • Content use policy