Water Futures:
Integrated Design for Water &Wastewater Systems

Sponsored by SLO Green Build, the City of Atascadero, City & County of San Luis Obispo, Arroyo Grande Community Center, the Atascadero Lake Pavilion, the Cayacus Brewery, and American Flatbread Pizza
$10 optional donation
Arroyo Grande Public Lecture by Art Ludwig, December 2nd 2008, 6:00 pm
Arroyo Grande Community Center 211 Vernon St., Arroyo Grande, CA
Water Reuse- Practice and Policy a Municipal Invitation Luncheon Wednesday- December 3rd 11:15-12:45
SLO Vets Hall 801 Grand Ave, SLO
Atascadero Public Lecture by Art Ludwig, December 3rd, 6:00 pm
Atascadero Lake Pavilion, 9315 Pismo Ave. Atascadero
Summary:

Information and background reading resources for the Integrated Water Design talks

On this page: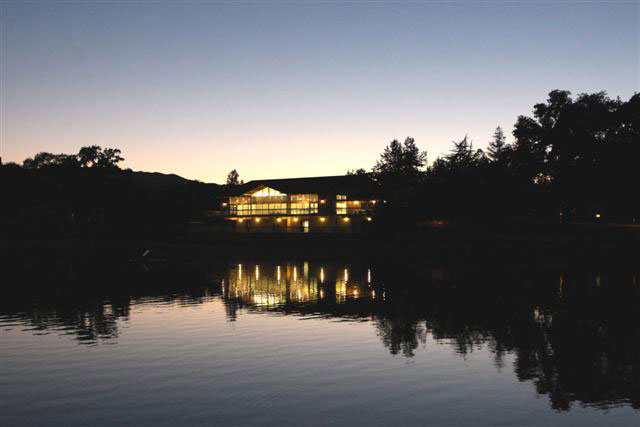 Come learn from expert sustainable water systems designer Art Ludwig about practical paths towards long term sustainability for San Luis Obispo County private and public water systems.
What The Lectures Will Explore
Our changing context
Principles of ecological design and the function of wild natural water systems
Water supply systems design
Super efficient fixtures
Grey water and blackwater systems design
Experimental permits as a means of facilitating R&D needed to inform policy changes for an orderly transition to post-peak systems
Water Reuse- Practice and Policy Luncheon
11:15 am –11:30 am SERVE LUNCH & INTROS
11:30 am - 12:00 pm SPEAKER Art Ludwig presentation
12:00 pm – 12:45 pm PANEL DISCUSSION Art Ludwig- Oasis Design Barry Tolle- SLO County Public Works Mladen Bandov- Civil Engineer RWQB Representative Landscape Contractor AT-(moderator)
Please RSVP to Jessica at 209-327-2133 or Jessicas@Semmesco.com by December 1, so we know how many to expect for lunch.
Art Ludwig is the author of Principles of Ecological Design, and the best-selling plumbing books Water Storage and Create an Oasis with Greywater. He has helped write water policy for the regulators in New York, New Mexico, Arizona, and California.
Helpful Preparation
The more of the background info below you understand (or have been exposed to) before coming, the more you will get out of the lecture...the same resources can be used to follow up in greater depth on points of interest.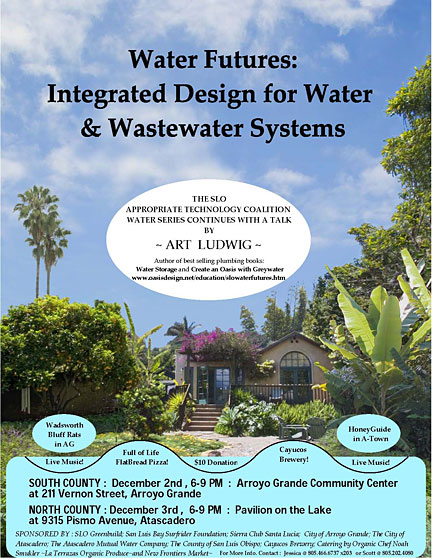 Full Size Poster (pdf, 335k)
---
^ Top of page ^ Browse | Catalog
• www.oasisdesign.net • ©1997 - 2022 Oasis Design • Content use policy