Laundry to Landscape Grey Water Systems
Instructional Video
Art Ludwig
| | |
| --- | --- |
| Instructional video about how to design and build Laundry to Landscape Greywater Systems. These are the simplest, most economical greywater systems to install yourself as an owner or renter, and a good green collar job opportunity (as a self-employed installer or as part of your landscape, plumbing, or construction business). | On this page: |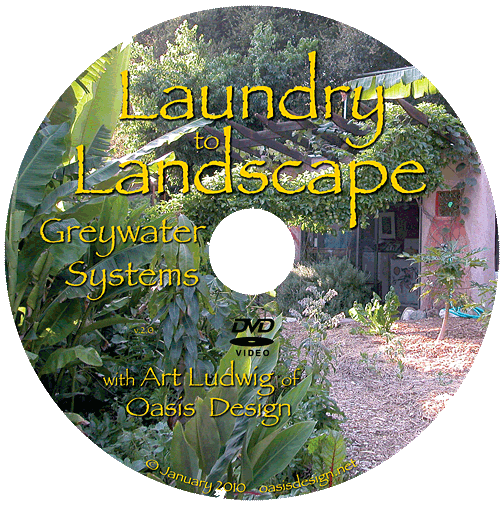 New Greywater Book and Video Set: The New Create an Oasis, Builder's Greywater Guide, Principles of Ecological Design, Laundry to Landscape instructional DVD $51.80 ($13 savings)
Laundry to Landscape Instructional Video Produced by Art Ludwig, published by Oasis Design, 2010. 90 minutes

DVD—$19.95 Soy ink color printed in a recycled cardboard case. ISBN 0-9643433-8-X.

Digital Download—$14.95 Choice of resolutions.
The Laundry to Landscape Greywater System is our own original design. It promises to be the simplest, least expensive, lowest effort way to get the most greywater out onto the landscape most effectively. (It is an improvement to our drumless laundry system design.)
For homeowners, renters, landscapers, plumbers, and contractors. Learn how to—
Save freshwater by irrigating with laundry washwater
Relieve strain on your septic tank
Purify wastewater better without energy or chemicals
Laundry to Landscape is an open-source, collaborative, state-of-the-art design initiated and curated by ecological designer Art Ludwig. Simple, elegant, and unpatented, it uses off-the-shelf components.
Due to its inherent simplicity and low cost, it is the greywater system which promises to be most suited to professional installation by landscapers. In many parts of the world it is likely that someone could make their own small business based entirely on the installation of these systems.
This video covers how-to basics for homeowners and renters. Ninety minutes in all, it also has extensive information on tools, parts, installation tricks, options, and special situations; enough for landscapers, contractors, and plumbers to install these systems as part of their green businesses.
Reviews
"Everything you need to know to put your greywater to work once it's done with your clothes... Art's a knowledgeable genius. Thoughtful and thought-provoking." —Michael Potts, Author, The New Independent Home

"Core curriculum for green plumbers and water conservationists." —Christina Bertea, Contractor, First California Journeywoman Plumber

"L2L is an 'of course' upgrade or stand-alone addition to the majority of our clients' landscapes." —Daniel Wilson, Landscape Contractor, WELDesign, Inc.

"Valuable tips, hints, and tricks, every step of the way. Clearly illustrated key points for seasoned plumber and novice alike. A must-have." —Bruce Beerup, Author, TheNaturalHome.com

"The best video on everything you need to know about a simple, effective greywater system for your home garden. Get the latest direct from the greywater guru...help save the planet." —Robert Kourik, Author, Drip Irrigation for Every Landscape and All Climates

"The depths of greywater have been brought to the light in this easy-to-understand video. Art cares deeply and acts accordingly so that his exhaustive knowledge is accessible to all." —Laura Bartels, Sustainable Building Consultant, GreenWeaver, Inc.
"Art Ludwig is my water-guru therapist, and his new DVD has absolutely turned me on to plumbing as way to help save the world. His new DVD is so inspiring that I get together with friends to watch it on a big screen while we eat popcorn!" —Mark Lakeman, City Repair Project
Table of Contents
Introduction
System Overview
Site Assessment and Design
How to Do It
Washing Machine • Biocompatible Cleaners • Diverter Valve • Transition to Outside • Anti-Siphon • Hose Service Connection • Distribution Line • Outlets • Mulch Basins • Trees
Options and Special Situations
Multiple Zones • Pumping Uphill • Steep Downhill Slopes • Rainwater • Freezing • Super Simple Systems
Legality
Conclusion and Resources
Resources
About our Eco DVD Design
We worked with our DVD explicator to custom design these 80% post consumer recycled cardstock cases. They're printed with soy ink and are the same size and shape of a standard amaray DVD case. -More on eco DVD design-
Video excerpt
DVD menu screenshots (menus are nonfunctional, but you can see the organization)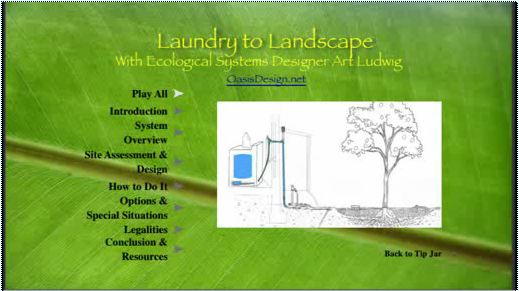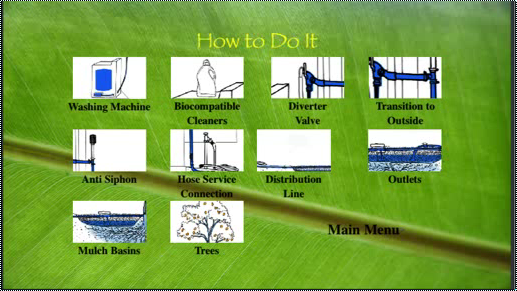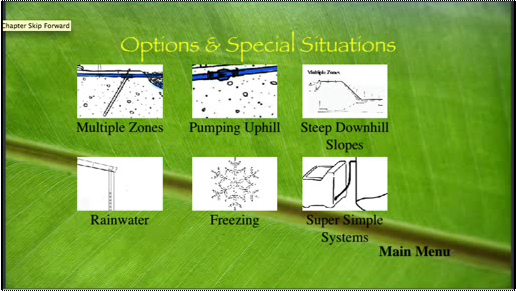 DVD Artwork
DVD Cover artwork (PDF, 1.6mb) Front cover only (JPG, 2.7 mb)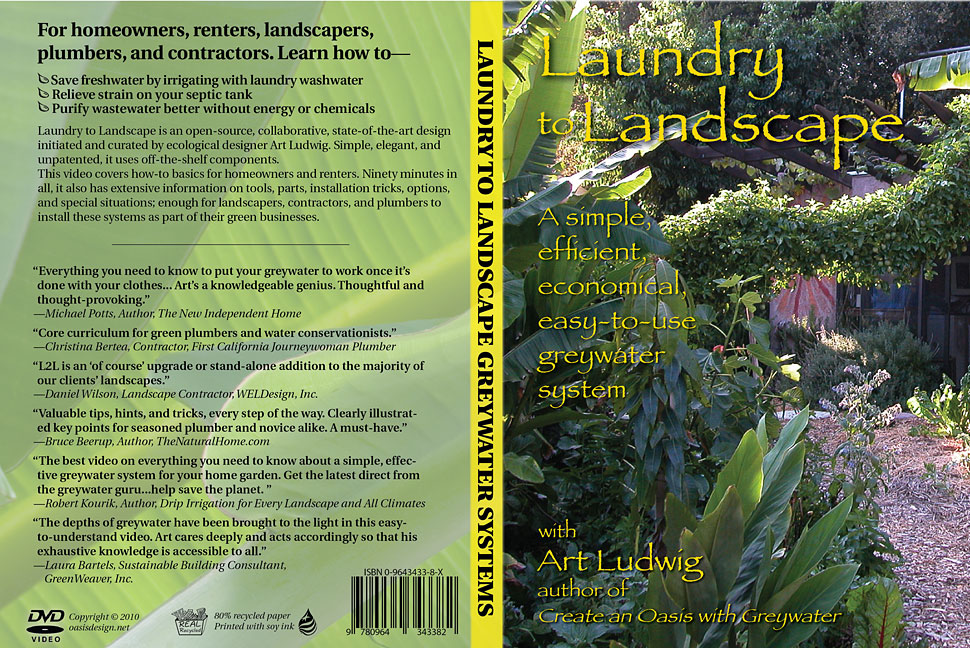 DVD inside cover artwork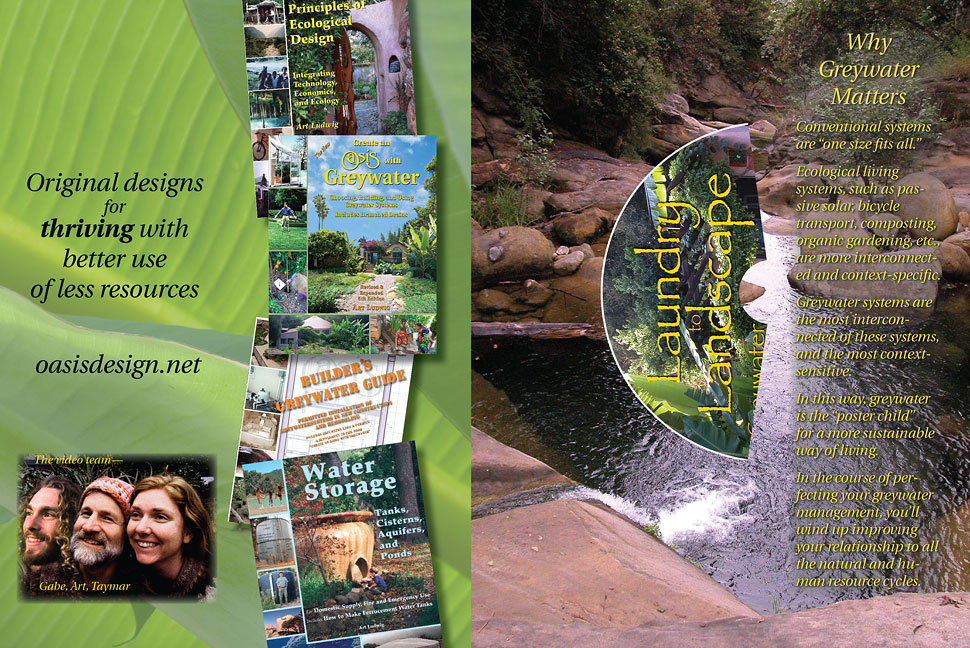 New Greywater Book and Video Set: The New Create an Oasis, Builder's Greywater Guide, Principles of Ecological Design, Laundry to Landscape instructional DVD $51.80 ($13 savings)
Laundry to Landscape Instructional Video Produced by Art Ludwig, published by Oasis Design, 2010. 90 minutes

DVD—$19.95 Soy ink color printed in a recycled cardboard case. ISBN 0-9643433-8-X.

Digital Download—$14.95 Choice of resolutions.

See also:
Create an Oasis with Grey Water (book)
^ Top of page ^ Browse | Catalog
• www.oasisdesign.net • Copyright © Art Ludwig 1997–2018 • Content Use Policy •