Grey Water System Design and Construction
Workshop with Art Ludwig
October 2nd-5th 2003 Santa Fe, New Mexico
This one's past, but if you are interested in attending a future workshop, please sign up for our Free Newsletter, which will announce them.
There will possibly be water/greywater workshops in Oregon, Arizona, and New Mexico in Summer of 2004.
| | |
| --- | --- |
| On this page: | |
Systems for reusing washwater in the landscape can provide superior treatment, save water, and save money.
With recent legal changes that allow Greywater systems to be installed without a permit application, New Mexico and Arizona are in the forefront of the Greywater revolution.
One of the biggest advantages of the new law is that building and landscape professionals can now legally install Greywater systems.
This workshop provides information and skills for design and installation of Greywater systems by plumbers, contractors and landscapers, as well as owner-builders.
The program consists of a late afternoon public lecture and a three day intensive:
Water Systems for Natural Building
Thursday October 2nd, 2003 5:30-6:30 pm Ecoversity, Santa Fe New Mexico — $6 (free with registration for workshop...highly recommended for workshop participants)
Ecological Systems Designer Art Ludwig presents information on water systems for natural building, including:
Key points of how wild natural water systems work
What nature has to teach us about water system design
Brief discussion of water supply systems for natural building, including rainwater harvesting
Efficient use, including radical redesign of fixtures and cascading water through multiple uses
Systems for beneficial reuse of water and nutrients in wastewater, including Greywater, and blackwater systems
Greywater system design and construction
Friday October 3nd, 2003 5:30-6:30 PM, Saturday Oct 4nd 1:30-5pm, Sunday Oct 5th 9 am-5 PM Ecoversity, Santa Fe New Mexico — $140
Greywater guru Art Ludwig presents a three day workshop on design and construction of Greywater systems. The workshop is oriented towards building and landscaping professionals, and owner builders. It includes:
Benefits of Greywater systems
Getting clear on objectives
Regulatory considerations
Economics
Site characteristics
Choosing a Greywater system
Design of collection plumbing
Design of distribution plumbing
Irrigation requirements and plants for Greywater systems (with Melissa?)
Designs for participant's projects
Construction and/ or tours of a laundry only system and a branched drain system, design of participants systems, details TBA
Bidding and business considerations for Greywater systems
Registration
Register on line or send a check for $140 to:
Attn: Registrar greywater course
EcoVersity
2639 Agua Fria
Santa Fe, New Mexico 87505
By Phone— 505.424.9797 ext. 1#
E mail—info©ecoversity.org
Registration will be limited to 20 people. Early registration is suggested, as the class is expected to fill.
Participants are strongly encouraged to prepare read the material suggested below before hand, and gather background information on a design they wish to do.
On construction days bring work clothes and tools; suggestions will be provided at the beginning of the course.
Suggested reading & preparation
The more you've prepared for the workshop, the more we'll all get out of it. Since there is a lot of material to cover in a short time, it will be assumed that participants have already read this key background:
Optional further reading:
About the instructor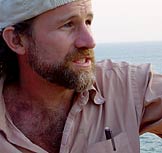 Ecological Systems Designer and Greywater Guru Art Ludwig has probably paid more attention to Greywater systems the past fourteen years than anyone else on the planet.
He's written three books and numerous articles on Greywater systems, developed several new system designs, and consulted with New York and New Mexico on their Greywater laws. He's also worked on water and wastewater systems in twenty two countries around the world.
---
^ Top of page ^ Browse | Catalog
• www.oasisdesign.net • ©1997 - 2022 Oasis Design • Content use policy