Support Reinforced Monolithic Adobe (Cob) Testing
Want to support this breakthrough testing? Our research partner Quail Springs, a 501 (c) 3 non-profit, is accpeting donations.

Monolithic Adobe (Cob) building offers many advantages:
High-quality, affordable, sustainable housing
Climate friendly
Sweat-equity friendly
Firestorm and debris flow resistant
Beautiful and soulful
With 10,000 homes lost to wildfire in California in 2017 alone, the need for fire and climate safe housing is greater than ever.
And, the barriers are lower than ever: California's Accessory Dwelling Unit law eliminated most of the zoning barriers to adding cob cottages in backyards. The main remaining barrier is the lack of engineering values needed for calculations to verify earthquake safety.

Oasis Design is leading a collaboration with Quail Springs, Cal Poly San Luis Obispo, and Verdant Engineering in Berkeley to develop user-friendly reinforcement to enable cob to meet earthquake standards in all seismic zones. We are working with Oasis and Cal Poly San Luis Obispo's engineering department to build test walls for destructive testing, to get the necessary engineering values for the various reinforcing regimes.

The walls will be subject to "reverse cyclic in-plane testing" that is, pushed and pulled from a top corner, in the plane of the wall, with a portable loading frame capable of exerting up to 100,000 lbs of force, until the fully instrumented walls fail. These data will yield a resistance per linear foot of wall for each different type of reinforcement. These values can be used to do the calls necessary to permit a structure of any shape, including organic curves, like this pilot project Art Ludwig is proposing for downtown Santa Barbara (see oasisdesign.net/shelter/safetycottage).
Want to support this breakthrough testing? Our research partner Quail Springs, a 501 (c) 3 non-profit, is processing donations.
Reinforced Monolithic Adobe Wall Fire Test (video)
Watch a truckload of wood be torched off against an adobe wall with two big fans on it, followed by blasting with a fire hose.
Images: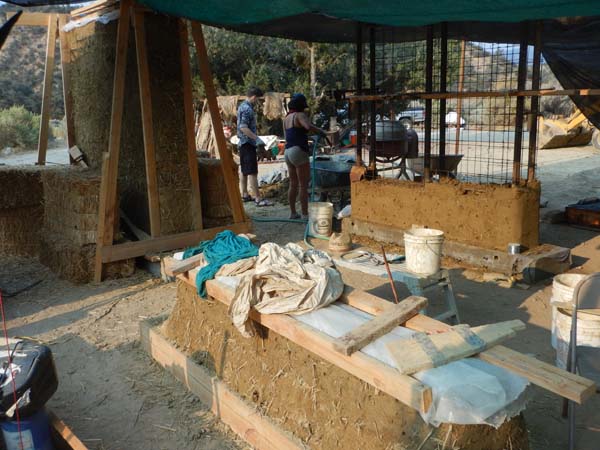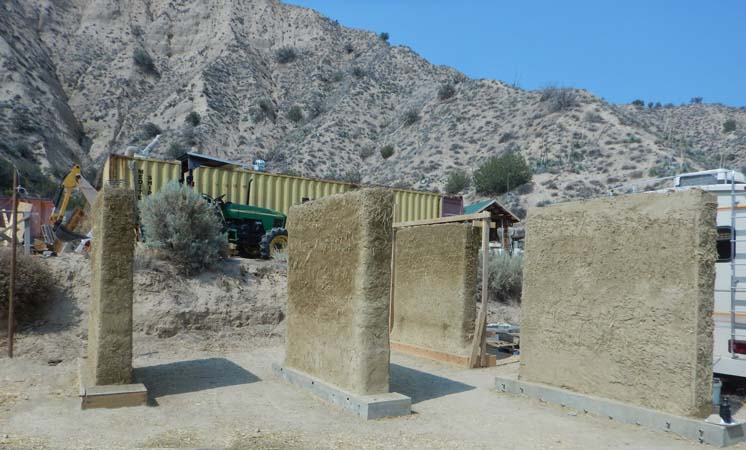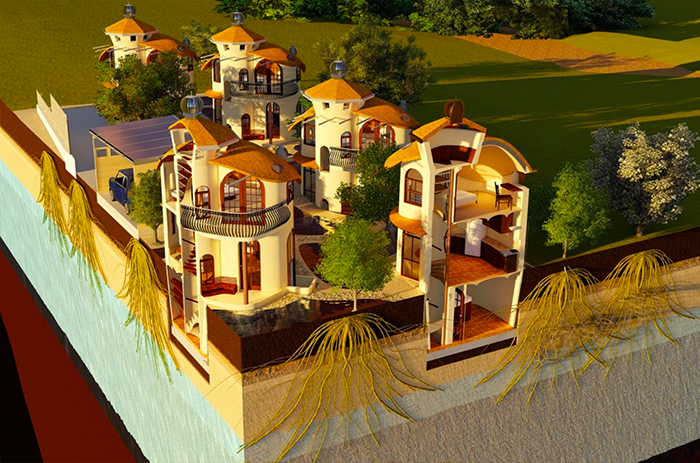 ---
^ Top of page ^ Browse | Catalog
• www.oasisdesign.net • ©1997 - 2022 Oasis Design • Content use policy