Integrated Design | Integrated design examples | Ecological design photos | Consulting | Ecological design Q&A | Free Newsletter
You are here: Home > Shelter-safety cottages >Seeking Clients for first Adobe Safety Cottages

Would You Like the Inaugural,

State-of-the-art Firestorm- and Climate-Safe Cottage on Your Property?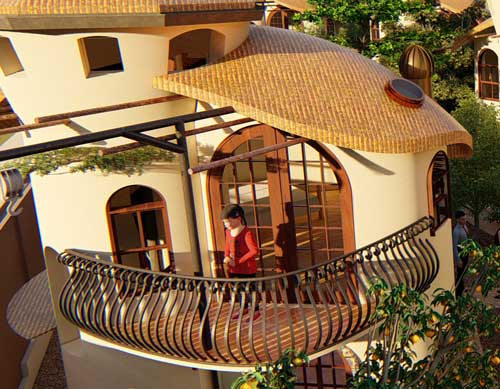 We have completed years of design, engineering, earthquake and fire testing, and have authored a whole new code for monolithic adobe buildings, recently approved for inclusion in the California Residential Code.
We're now inviting good clients with sites to build the inaugural permitted, sustainable, affordable, firestorm- and climate-safe adobe cottages.
Adobe Safety Cottage Features
Soulful and space efficient—intricately detailed 3D use of space, high quality and density of craftsmanship, convenient, with everything needed for living healthy and well at your fingertips.
Quality environment—excellent ventilation, indoor air quality, daylighting, soundproofing, aesthetics. Extremely firestorm resistant—among, if not the most firestorm-resistant and beautiful habitable structures.
Climate safe—low carbon footprint, resistant to extreme weather, passively provides clean cool air on smoky days.
Earthquake resistant—Among the strongest earthen buildings ever for lateral loads. Debris-flow-resistant—with about 10x the lateral load resistance of a stuccoed wood-frame building, and the option of a boat-shaped, steel-armored ferrocement foundation that can extend above ground to the height of expected debris flow.
80% less water and energy use—using innovative, integrated state of the art ultra-high efficiency fixtures.
No heavy equipment required, preserves the plant growth and infiltration capacity of the soil—The innovative multi-benefit, multi-use habitable basement foundation does not require the over-excavation and compaction that permanently destroys the soil under and around new buildings.. It is possible to build an Adobe Safety Cottage in a fully landscaped backyard without the massive, permanent destruction of over-excavation and compaction by heavy equipment.
Choice of architectural style—Spanish revival, Gaudi, Shelton, English cottage with slate roof and beveled glass windows, Santa Fe, Mountain Drive, etc.
Soulful—hand built, human scale, with lots of craft and care. Nontoxic—real materials: adobe, stone, metal, glass, and wood. Excellent indoor air quality. Extremely low architectural fuel load—as low as 0 lbs of architectural fuel load, vs. 60,000 lbs (!) of wood and wood fuel equivalent in an average new house.
Multi-useful—as residence, office, art studio, and/or fire safe for valuables.
Educational—the building itself helps instill sensory awareness and systems thinking in residents, with windows that both passively heat and cool the structure, as well as align to and frame solstice and equinox sunrise/moonrise and sets, the and a window aligned with the north star.  Secure store of wealth—Security of investment much higher than conventional construction, with a building that is extremely resistant to fire, termites, and dry rot.
Economical—Cost per person per year is lower than conventional construction, due to 200-year design life; high immunity to firestorms, earthquakes and termites; ultra-efficient use of every cubic foot of space; and extremely low utilities.
Newly permittable—After a decades-long effort, we got these in the building code (!), have engineering values for earthquake, and just got two official fire ratings. They can be permitted several ways, most easily as Accessory Dwelling Units.
Low external costs and high external benefits for society—low climate impact; can fit many more people in the same environmental footprint, help secure the property tax base against firestorm; creates firebreak between wood houses; low landfill impact for both construction and demolition; and low off-site production of toxins and impacts; long-term affordable and a secure store of wealth for savvy investors who see the wisdom of moving their nest egg out of fuel and into firebreak; and a secure store of intergenerational wealth more accessible to less wealthy people. 
Soul and space efficiency—intricately detailed 3D use of space, high quality and density of craftsmanship, convenient, with everything needed for living healthy and well at your fingertips.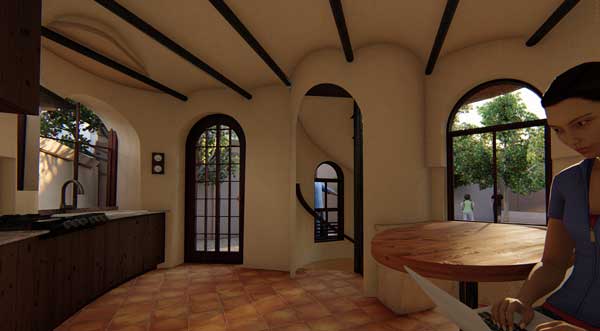 Our objectives
Build you a really nice, firestorm- and climate-safe cottage that will provide comfort and joy, and securely store and share wealth between generations
Yield beautiful photographs to start a coffee-table book/ menu of pre-designed adobe safety cottages in different sizes and styles, to help people understand how beautiful as well as functional this kind of construction can be;
Pioneer a permitting pathway that others can easily follow to get permits for firestorm- and climate-safe building
Start a library of pre-drawn, pre-engineered plans which cities and counties can give away to promote sustainable, affordable firestorm- and climate-safe building, including resident-built structures that serve as a secure store of wealth accessible to more people, including young and less wealthy people. (Ventura County currently gives away pre-approved plans for ADUs; our vision is for lots of cities and counties to give away pre-approved plans for adobe tiny houses, so they are the easiest and cheapest things to build).
What we're looking for in terms of sites and partner-clients
In Santa Barbara County—ideally biking distance from downtown Santa Barbara, (OR in Marin County, due to particularly favorable regulatory environment there).
Site suitable for a permitted Accessory Dwelling Unit—which is almost any site that does not already have a big investment in unpermittable structures. The rules for ADUs eliminate many obstacles: a large lot is not needed, extra parking is not needed, and new water, gas, and electric are not needed. It may be possible for the access to be a foot trail. It can be a garage conversion. Even most multi-family properties can add an ADU. Permitting is expedited and fees are low. It is possible to be permitted as a primary dwelling or detached bedroom, but an ADU is the easiest. We are looking to build sizes from 240 to 400 ft2 initially, which can have lofts thanks to California's new Tiny House code.
Client not in a huge rush and financially solid—so that the inherent uncertainty about timeline and higher costs of pioneering do not pose a hardship or cause stress.
Client inspired by and supportive of the larger ecological and social mission—and willing/ able to shoulder some of the initial cost of pioneering the trail for this building system, so it will be easier for others with less resources to follow this path to housing. We foresee these being built first by visionaries in the donor class; then by people in the investor class, who see the wisdom in shifting from insecure investment in housing made of fuel to secure investment made of firebreak; then by the full range of people, including young people building sweat equity to get a foothold in communities like Santa Barbara that are otherwise out of reach. An exciting possibility is a consortium of Santa Barbara non-profits making multi-unit housing of this type to ensure that their own workforce is not lost to the extreme high cost of housing.
Economics
If you take everything into account, the most economical solution is the most ecological solution as well.
The Adobe Safety Cottage is an extraordinarily economical solution (as well as ecological solution) for high-quality housing. Every aspect of the design feeds into this.
The biggest single factor is lower square feet per person. They are cozy, soulfull, highly optimized spaces, which are more inviting than small spaces of conventional materials and design because of better air quality from non-toxic mateirals, better ventilation that turns over air in more of the room volume, better soundproofing, and daylighting.
The second biggest factor is ultra high efficiency use of hot water, water, and electricity.
The third biggest factor is long design life. With much lower vulnerablitly to firestorms and termites, these strutures are expected to last well over 100 years (The oldest continuously inhabited struture in the US, the Taos Pueblo, is made of adobe and is over 1,000 years old).
Conventional construction is cheap primarily by externailzing costs: the costs of extracting resources; disposing of waste; high energy and water use; heavy climate damage; treating resident's cancer caused by toxic buidlng materials; in a firestorm, igniting other structures with embers and heat as the struture burns, after burning, bleeding out water and pressure so that it's difficult to defend other structures; poor performace in less common but more critical situations such as high smoke days, power outages, high heat or cold.
Adobe Safety Cottages have lower external costs, and substantial external benefits that accure to the community: they serve as firebreak between wooden strutures; the design reduces impact on solar access for neighbors; they emit less sound; reduce flooding by capturing stormwater; raise the groundwater level, etc.
Estimated costs per person per year for a tiny adobe ADU vs an average main dwelling. The first few structures would cost substantially more than this...editable calculations for cost graph.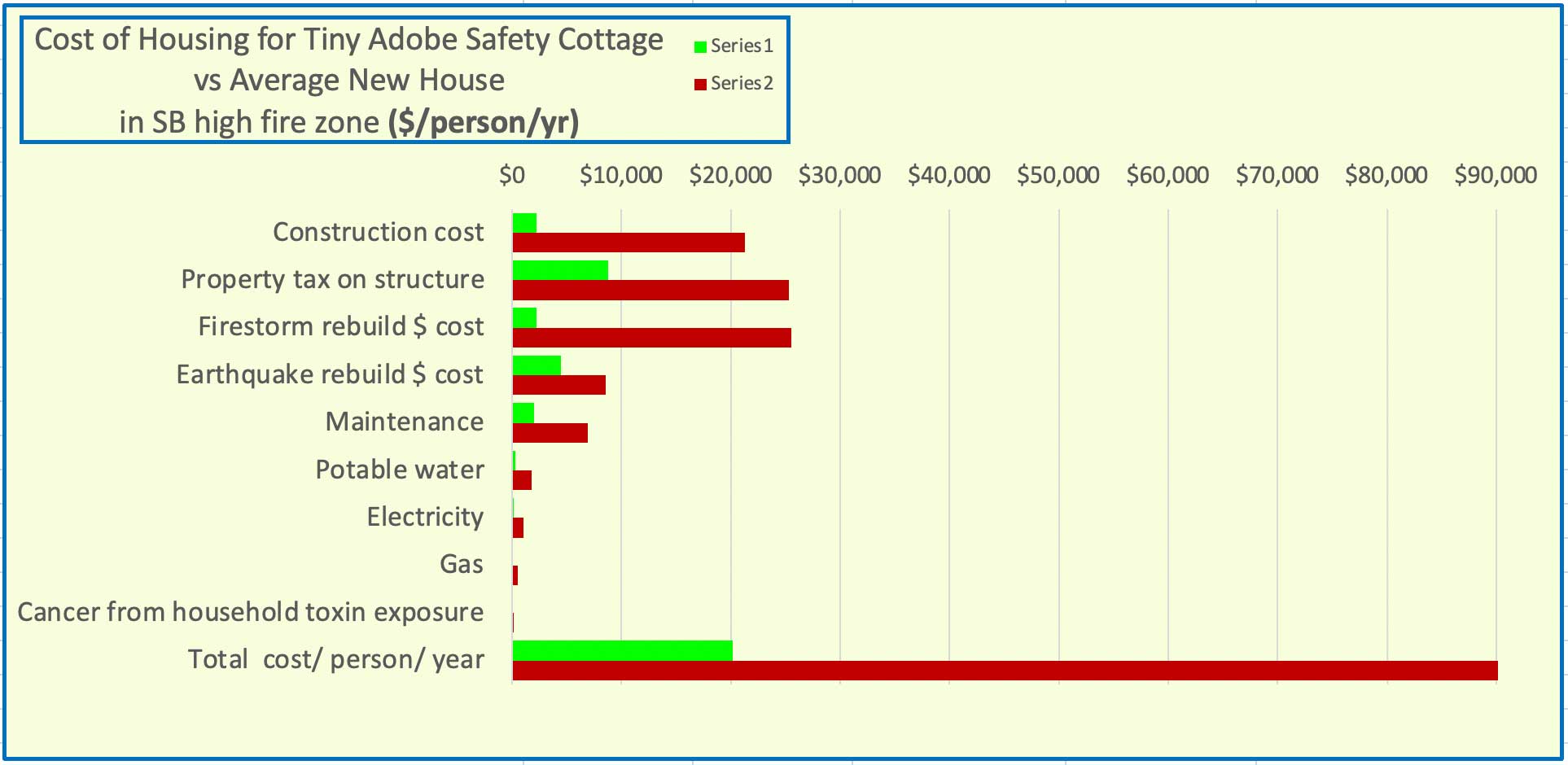 More info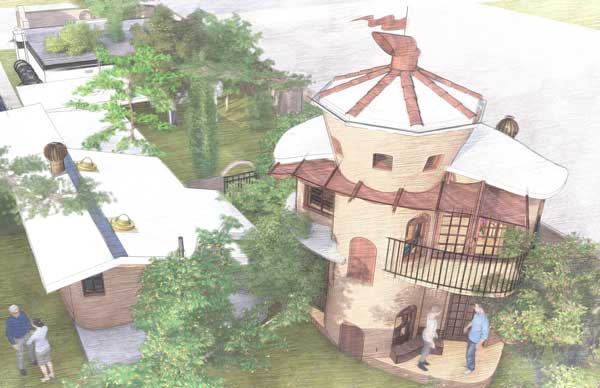 ---
^ Top of page ^ Browse | Catalog
• www.oasisdesign.net • ©1997 - 2022 Oasis Design • Content use policy