For Immediate Release:
World's First General Book* on Water Storage:
Water Storage: Tanks, Cisterns, Aquifers, and Ponds For Domestic Supply, Fire and Emergency Use
Includes How to Make Ferrocement Water Tanks
Art Ludwig
A do-it-yourself guide to designing, building, and maintaining water tanks, cisterns and ponds, and managing groundwater storage. It will help you with your independent water system, fire protection, and disaster preparedness, at low cost and using principles of ecological design. Includes how to make ferrocement water tanks.
*This can't really be the first general book on water storage, can it? Doesn't seem possible. If you know of another one, would you please let us know? Don't want to embarrass ourselves making this claim if it is not true!
Here's a partial list of water storage related books we know of already; mostly $150 engineering manuals for million gallon municipal tanks, or how to make one kind of ferrocement tank, or tanks for non-industrialized countries, or water system books with fairly cursory coverage of storage—nothing with a broad, yet detailed overview of the topic.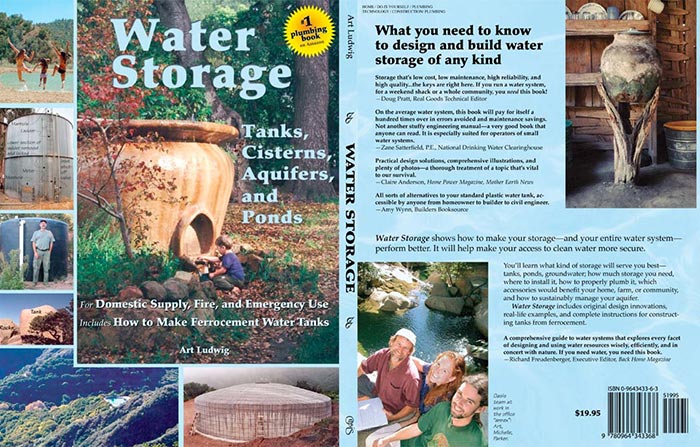 Author: Art Ludwig, published by Oasis Design. 2005. 8.5x11, 125 pages, 43 figures, 128 photos. ISBN 0-9643433-6-3. $19.95

Water Storage shows how to make your storage—and your entire water system—perform better, especially if there are water quality issues, severe supply constraints, or highly variable demand.
You'll learn what kind of storage will serve best—tanks, ponds, groundwater; how much storage you need, where to install it, how to properly plumb it, which accessories would benefit your home, farm, or community, and how to sustainably manage groundwater—in short, how to make your access to clean water more secure.
Water Storage includes original design innovations, real-life examples, and complete instructions for constructing tanks from ferrocement.

It is aimed at small communities, farms, ranches, back to the landers, and anyone interested in water security.
Water Storage-book main page
References page
Index page
For a review copy, contact us at 805 967-9956, fax 805 967-3229 or via formail: Email us
Please include your name, name of your publication and its circulation and web site, if there is one.
Thank you!
---
^ Top of page ^ Browse | Catalog
• www.oasisdesign.net • ©1997 - 2022 Oasis Design • Content use policy