Newsletter: New Water Storage Book, What Next?
May 2005
Water Storage is here!
Our new book, Water Storage: Tanks, Cisterns, Aquifers and Ponds for Domestic Supply, Fire and Emergency Use, is now shipping!
It is a do-it-yourself guide to designing, building, and maintaining water tanks, cisterns and ponds, and sustainably managing groundwater storage. The book also includes detailed guidelines for how to make several styles of ferrocement water tanks. It will help you with your independent water system, fire protection, and disaster preparedness, at low cost and using principles of ecological design.
See Water Storage-book for all the details...or click to order it now:
| | |
| --- | --- |
| | Author: Art Ludwig, published by Oasis Design. 2005. 8.5x11, 125 pages, 43 figures, 128 photos. ISBN 0-9643433-6-3. $19.95 |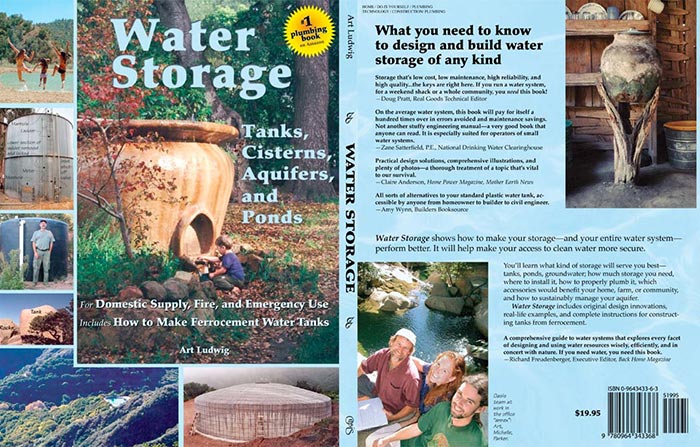 What Next?
Finishing the Water Storage book feels like getting to the top of a mountain pass after a long, hard slog. We've got a great team in tip top shape, and now a whole array of enticing potential paths stretch out before us into different parts of the landscape below...
So which path to take?
An astonishing sequence of powerfully transformative experiences have washed over me the past few months. Like this exchange, with Ianto Evans:
Art: We've finally finished the Water Storage book. You know what a grueling experience it is to write a book...

Ianto Evans: Art, instead of identifying the product you want, then enduring whatever it takes to achieve it, why not identify the process you want to live and then harvest the fruits of that process?

Art: [brain snapping, crackling and popping] You mean to say that I've been running my life and work exactly backwards?

Ianto: Yes. Think about it: Nature doesn't do products. It is all process...
Later, Satish Kumar put it this way:
"What is this thing with you Americans 'pursuing happiness?' Why not just be happy?"
So...what process do I want to live? Good question. I'm surprised at how hard it is for me to even think this way.
Here's what I've come up with so far:
Spend time with extraordinary people
Identify key voids in the design and construction of alternative society "lifeboats"
Discern my greatest skills and insights
Work with a team to apply these to the voids
Maintain balance in the dance of family, friends, work, celebration, body and nature...I think for me this balance starts with moving my body.
Which still leaves the question of which of these enticing paths to proceed on. Can you help? Here are some of the options. Please Email us feedback as to which you think we should do:
Finish another of several half-written books:
Living with Nature (the world according to Art)
How to Live Really Well on Almost Nothing (money management)
Rainwater harvesting and runoff management
Natural Camping/ Wild Water Wisdom (how natural systems work and how to fit into them)
Toilet Alternatives (composting toilets, alternative septic systems)
The Way of the Bicycle (bicycle designs and use tricks, interspersed with stories from three years of travel in 22 countries)
Water Systems (water system design principles with extensive examples)
Understanding Water DVD (interactive video to sharpen water understanding and intuition, starting with natural systems, then camping in them, then engineered water and wastewater flows, with extensive computer graphics showing how water quality changes each minute and each foot through the system)
(You can vote for these and others at our Vote for new content page)
Do classes/ presentations:
Water System Workshops (water system principles, design & construction, micro-hydro, drinking water treatment, bathhouses, greywater systems, edible landscaping and microclimate modification— in Oregon, and California)
Wild Water Wisdom/ Natural Camping (backpacking journeys)
Greywater Plumbing (workshops in New Mexico and Arizona)
Designs to develop:
Best Bicycles and Accessories in the World (a suite of bicycles and accessories for commuting, traveling and mountain biking)
Eco Luxury Bathing Chamber (twenty minutes steamy, relaxed luxuriation on the water and energy otherwise used for a five minute military shower with an anemic low flow showerhead–available for consulting clients, would eventually go in a book)
Branched Drain Septic Systems (sustainable reuse of all household water and nutrients in a permittable septic leachfield/ orchard–available for consulting clients, would eventually go in a book)
Water Quality Graphical Representations (a new technique for making water quality data visually accessible)
New web stuff:
Ecological Systems Design Forum (visitors share questions, answers and ideas)
Composting Toilet Survey (why does the same composting toilet work perfectly for one family and melt down disastrously for another? Perhaps a detailed survey of users would turn up some answers)
Do It Yourself Education in Systems Design (reading list, suggested thesis topics & independent study ideas)
Or take a year off for the global eco village tour...
Email us feedback
Free Newsletter main page
---
^ Top of page ^ Browse | Catalog
• www.oasisdesign.net • ©1997 - 2022 Oasis Design • Content use policy